GOALKEEPING
"The goalkeeper is the lone eagle, the man of mystery, the last defender. Less the keeper of a goal than the keeper of a dream."
—Vladimir Nabokov
If you're looking for goalkeeper training, look no further than Net Results Soccer Training. We offer individual goalkeeper training sessions, small group sessions, and will even come work the goalkeeper in their team practice. All goalkeeping work outdoors can be done with a full-size goal frame, regardless of location. Indoor technical sessions are available indoors for bad weather or for night lessons.

We cover all aspects of the position. For beginning goalkeepers, the focus is on the basics of footwork, shot-stopping and diving, and the safety of the goalkeeper out on the field. For more advanced keepers, we cover advanced diving techniques, parrying, breakaways, distribution, communication, tactics and more.

Group camps usually run during the summer and indoors during the winter off-season; private instruction can be scheduled year-round. Contact Net Results Soccer for programs, rates and times available.

Coach Jeff Benjamin has over 25 years of goalkeeping experience, attained the National Goalkeeping Diploma from the National Soccer Coaches Association of America, spent four years as the advanced goalkeeper coach at the Fort Collins Soccer Club, and is a staff coach for Star Goalkeeper Academy. He is also the author of JB Goalkeeping, recognized world-wide as a comprehensive site for goalkeepers and goalkeeper coaches on the science and art of goalkeeping. Find information on technique, tactics, goalkeeping psychology, equipment, and more!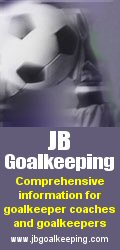 Net Results Soccer Training
Fort Collins • Loveland • Berthoud • Longmont • Greeley • Northern Colorado • Wyoming